Visualize Your Networks with
the AI-driven Cloud
Resolve Pain Points of Traditional Networks
Easy to Manage Multiple Sites
No need for costly site visits or onsite support
Troubleshooting with Graphical Tools
Provides real-time & historical visibility of devices
Remotely Manage Device Firmware
Coordinate repetitive updates with schedule
Simultaneous Updates for Distributed Devices
Save time and avoid downtime & risk
Work Smart with EnGenius Cloud
Experience unprecedented ease and efficiency in network management. From deployment to troubleshooting, the end-to-end Cloud Solution helps you achieve more.
Next-Generation Serverless Faas True Cloud
Your Network is Always Available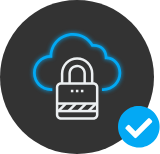 TFA Tunnel for Link Security
User Privilege Management
Multi-Tenant Infrastructure Protects User Data
EnGenius Cloud Mobile App
The EnGenius dashboard mobile app is ideal for network management on the go.
Available for Both Wired & Wireless Networks
Versatile Managed Access Points
Simplified AP deployment, configuration, and monitoring. Manage your network with visibility and AI-driven advisory
Full-Featured Network Switches
Simplified deployment and port management of switches. Manage your network remotely from a variety of perspectives
Learn More - EnGenius Cloud White Paper
See how EnGenius Cloud's unique features achieve reliable and scalable infrastructure and help IT managers better visualize their networks with important insights.